 Air & Gas Technologies is a proud distributor of Transair® aluminum piping and fittings. This unique piping system serves as the ideal technology for conveying compressed air, vacuum, or inert gas. Transair is fast, flexible, and easy to modify. Quick connections eliminate the need to thread or
soldered pipe. Transair® offers significant savings on installation, maintenance, and operating costs, making it the most cost-effective and efficient pipe system for these applications.
 With our team of highly skilled project management and installation team, Air & Gas Technologies can provide your facility with a true full system turn-key system installation experience.
With Transair® aluminum piping and fittings, you can save on installation, maintenance and operating costs when compared to other piping materials.
 The system's detachable and interchangeable components allow for quick modification in the event of a required change. Our team of experts can guide you through system design, installation, start up, and commissioning. If your project requires a phased approach the Transair® piping system is ideal. With proper planning, when you are ready, the next phase can begin without service interruption. 
Transair's additional benefits include:
Energy efficient
Lower installation costs
Push-to-connect technology
Immediate pressurization
Removable and reusable
Modular design
No corrosion
Leak-free guarantee
Full bore design
1/2″ – 6″ pipe sizes
The material used to manufacture the pipe and fittings are 100% recyclable. Transair pipe and fittings are guaranteed silicone-free. Parker Transair® Piping Systems
Download a PDF product brochure for each of these Parker Transair® Piping Systems that we carry and service.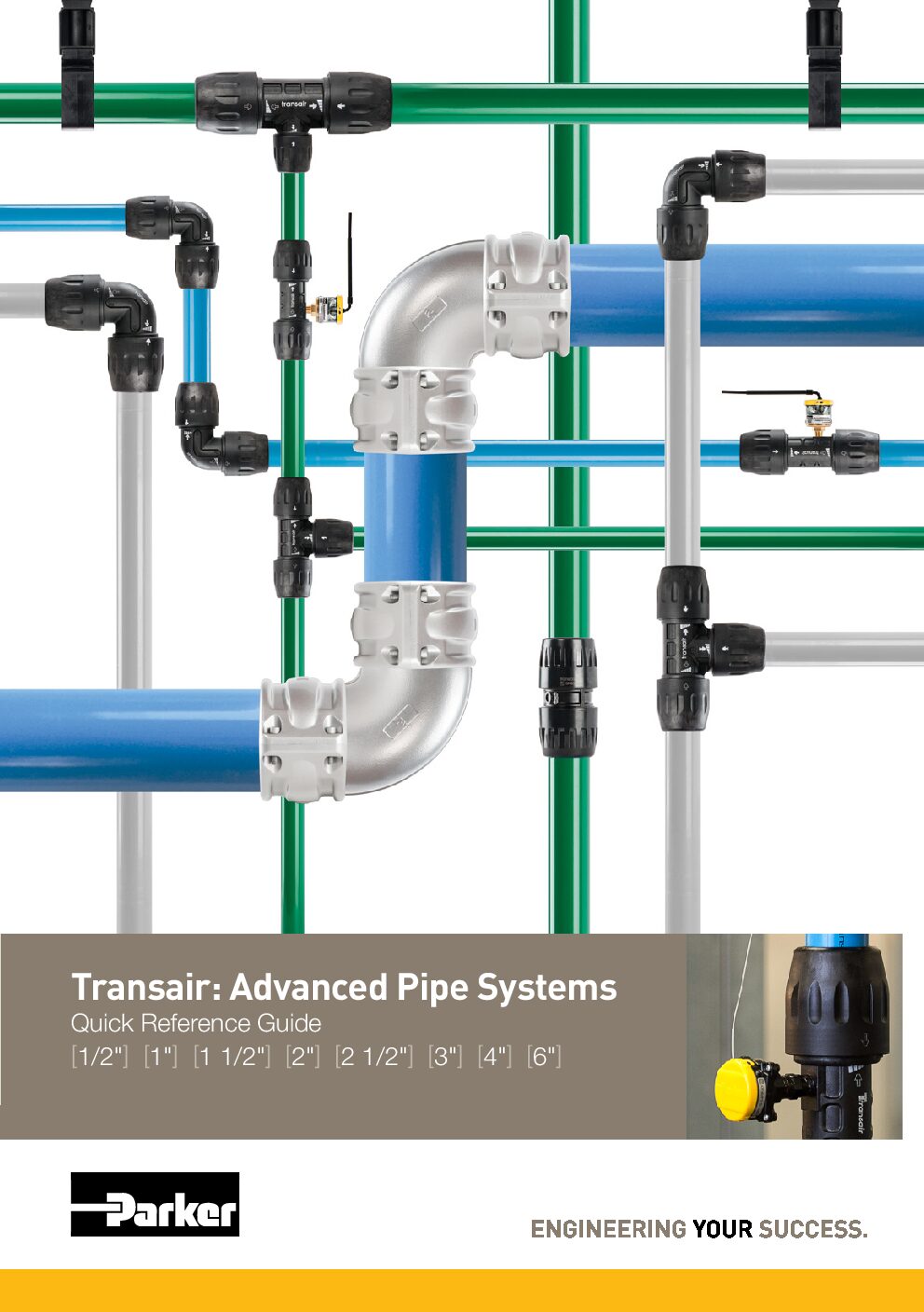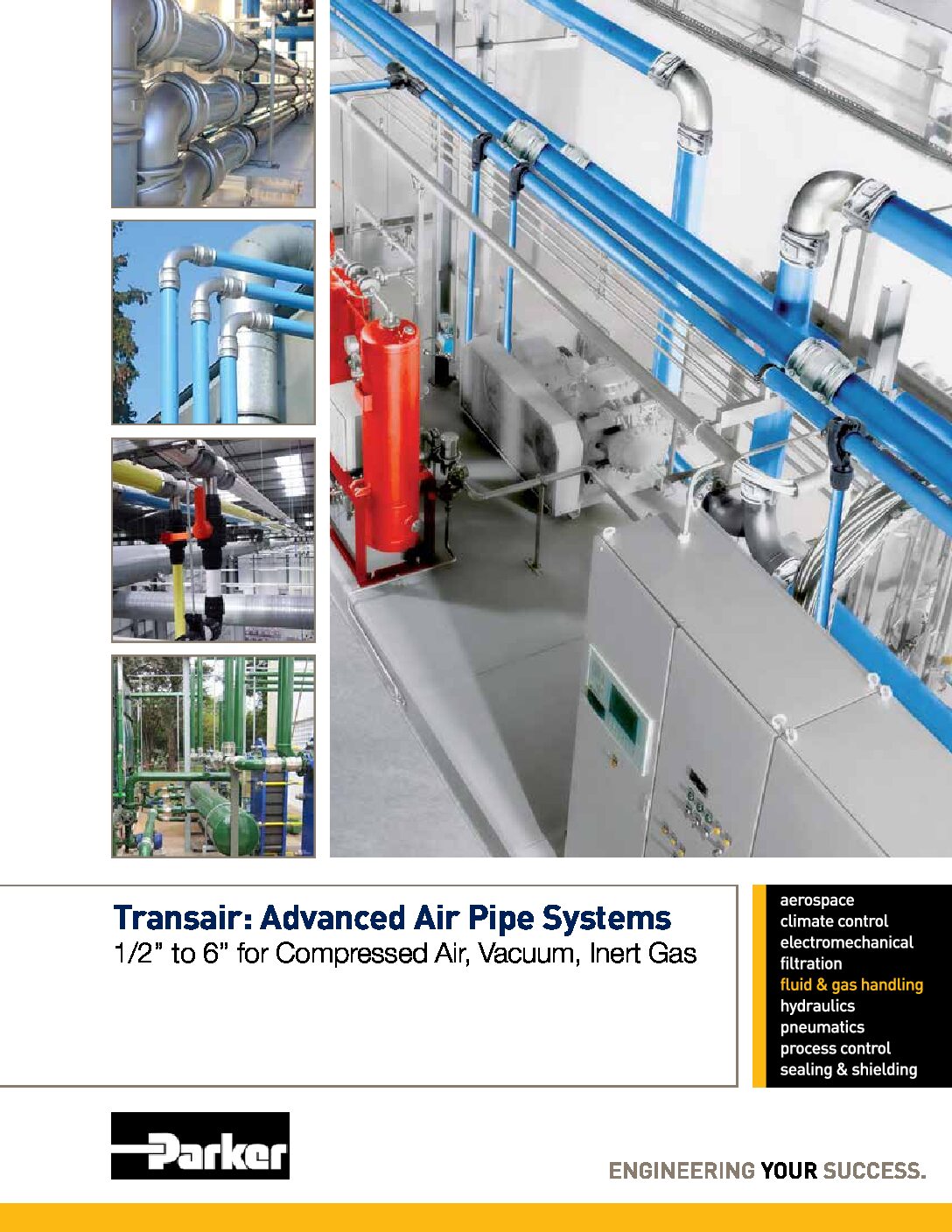 Advanced Air Pipe Systems
Transair Piping Advantages Reduce Downtime
A properly designed and maintained system will reduce downtime.
24/7 Crew
We have an experienced crew available for emergencies 24/7 to avoid costly downtime.
Replacement Parts
We can design a service maintenance plan to ensure you have reliable replacement parts when you need them. 
System Maintenance
We will ensure your system is maintained to keep it in peak working order. 
Save Energy Costs
Older dated air compressor machines and Transair piping systems are much less efficient than newer models. 
customer service
We think of ourselves as your partner in success. We pride ourselves in superior customer service and responsiveness.
Transair Piping Considerations + Preventative & Predictive Maintenance
Piping Installation
If you're renovating or constructing a new industrial facility, you may need a complete air system that circuits the building and provides high-pressure air to every machine. Quality piping is essential to maintaining air integrity and not wasting money through lost compression.
Electrical Options
Most machines are going to be wired for 230v or 460v. This is entirely up to the wiring availability for the application. However, larger machines should use 460v wherever possible as this is much more energy-efficient and will save you money in the long term.
Smaller portable compressors will use gas or diesel engines as the primary mover. 115v systems are available for homes. However, in any industrial setting, these will not produce enough flow.
How much flow (SCFM) do you need?
This is really dependent on the application. There is no great way to answer this over the internet. We would urge anyone to give us a call and we can talk over your specific needs and how we can find a solution that fits.
Storage Vessels
Another consideration is how much air storage you will actually need. Again, our compressor professionals will be able to help you size your flow production and demands to get you the air you need.
Many compressors will come either Base Mounted or Tank Mounted. Tank-mounted is generally easier as a properly sized tank is provided by the manufacturer and is a part of the whole unit. The base mount is necessary when the layout of the room demands more control or when the manufacturer ASME tank does not fit your needs.
Compressed Air Quality
Ensure that wherever the compressor is housed, it is kept away from contaminants, dust, and water. This is key for keeping costs down.
Also, keep a standard maintenance schedule where filters and oil are replaced. If you have a desiccant dryer, replace the desiccant when necessary. A refrigerated dryer must maintain a room within a certain temperature range to work correctly.
If care is taken, Industrial compressors can last decades. They can be costly or cost-effective depending on care and maintenance. Checking air quality can help save thousands of dollars in electric costs. Keep your air quality high and you will maximize uptime while minimizing costs.