New Jersey Specialty Projects
Added a public CNG Station to petroleum fuels/convenience store; with an excellent location, adjacent to an interstate highway and warehouses complexes, lots of volumes. Duplex 450 SCFM (total 900 SCFM) 200 HP compressors, inlet gas dryer, storage system, priority control, two (2) dual hose dispensers, and a backup generator.
Pennsylvania Specialty Projects
2005 Mack Truck needed a solution to fill CNG cylinder pods, which were utilized on the base frame of the truck's chassis while still on their production line. This allowed the trucks to comply with dynamometer testing before being upfitted with a body & cylinder package per the customer's specifications. This pilot program grew in 2012 to the next phase, which required a fast-fill CNG system due to increased demand for CNG trucks. This is when we packaged a refurbished simplex compressor, priority & sequential panel, and stacked ASMEs.
Click on any photo to see a large slideshow.
New York Specialty Projects
HYDROGEN & METHANE FUELING SYSTEM
In 2003 Air & Gas Tech designed and installed a methane detection system and HVAC upgrades for the fleet's repair garage. This allows bus mechanics to work on vehicles safely. Our relationship with this customer continued in a service capacity for their existing station. In 2016 after Hurricane Sandy flooded the area and adversely impacted the stainless tubing, which was uncoated, we were contracted to excavate and install thermoplastic coated stainless steel below grade. In 2019 the school district invested in a new Duplex Compressor System, which we installed and retrofitted to their existing system. During the retrofit, we provided a rental compressor to keep fuel flowing. In 2021 Air & Gas Tech was contracted to upgrade the remaining CNG equipment which included a new Priority Valve Panel, Fast Fill Dispenser, and 32 new time fill hose assemblies. 
Click on any photo to see a large slideshow.
North Atlantic Alternative Energy Advisors
In 2018, AGT designed and built a mobile fueling system for mobile CNG tube trailers, which included a priority-sequential panel, PLC/HMI, software to optimize fueling to allow temperature compensation and fuel management. In addition, all transactions are recorded and transferred to the office via the cellular device for customer billing.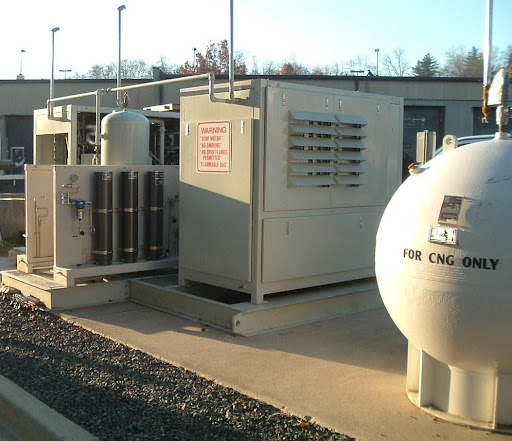 Duplex CNG Compressor System with Discharge Dryers, ASME Sphere & Duplex Dispensers with Card Readers.
California Specialty Projects
Hilarides Dairy Farm, Lindsay, Ca. Phase 3
We participated in implementing a manure to bio-gas clean-up system and respective CNG stations designed to provide methane for ten electric generators, boilers for the milk processing plant, and CNG to displace over 600 diesel gallons of fuel per day.
Click on any photo to see a large slideshow.
Louisiana Specialty Projects
Cornerstone – St. Landry, LA
We partnered with Cornerstone to develop a CNG station in conjunction with their landfill gas clean-up system. This was listed as a small-scale prototype development project to yield "proof of concept" for smaller module clean-up systems. The project's success ultimately generated 250 gasoline gallon equivalent (GGE) of CNG per day while mitigating methane leaching into the atmosphere. The results were significant air quality benefits and unique environmental education opportunities for the local community.
Click on any photo to see a large slideshow.
Connecticut Specialty Projects
Enviro Express Bridgeport, CT
Designed and built a combination LCNG station for a customer with a fleet of class 8 tractors. This included the site development, permitting, electrical, piping, infrared detection system, gas compressor, dual dispensers (LNG & CNG), fuel management credit card unit, mercaptan injection unit, and all ancillary components.
Click on any photo to see a large slideshow.
Sequential Panel & Booster System
Modular Approach (better subtitle here?)
Need Text Here
Click on any photo to see a large slideshow.