University and SCHOOL DISTRICT CNG Projects
New York University & School District CNG Projects
Long Beach School District – Long Beach, NY
2003, Air & Gas Technologies designed and installed a methane detection system & HVAC upgrades for the fleet's repair garage. Modifications were required to comply with NFPA requirements for CNG school busses. This involved two rooftop heaters with economizers interconnected with the methane detection system, which went to 100% make-up air when triggered by an elevated LEL and activating rooftop exhaust fans. This design avoided opening garage doors (especially in the winter) to flush the garage area with fresh air.
Click on any photo to see a large slideshow.
Pennsylvania University & School District CNG Projects
Lower Merion School District – Ardmore & Rosemont, PA
In 2008 – 2009 we upgraded the two original 1995 CNG stations as part of the new high school development project at two separate locations. We worked in conjunction with various contractors involved with the new school complex site work while maintaining timelines to have a functional fueling site before school resumption. This involved the demolition of the existing site & upgrades to gas-electric & the construction of a new brick building to house the duplex 250 SCFM compressors, valve panel, PLC control, regen dryer, remote soft starters & ethernet communications system. Fueling islands were about 300 feet from the compressor compound, including a card reader system & lighting. An ASME-certified cylinder manufacturer fully refurbished the storage cascade, and the control panel and dispenser were refurbished by Air & Gas Technologies.
Click on any photo to see a large slideshow.
Rose Tree School District – Media, PA
2014 Designed and built a CNG station for a school bus fleet. This included all site work upgrades to the electric and gas services. The initial phase included two (2) compressors; however, the site was designed for three (3) compressor units with all necessary preparations. Included are a dual hose fast-fill dispenser, three-pack ASME storage vessels, and upgrades to the fuel management system. Station set up for remote communication & notification of faults.
Click on any photo to see a large slideshow.
Temple University – Philadelphia, PA
We designed two CNG Stations for Temple's Philadelphia & Ambler campuses. These were also combination fast-fill & time-fill to support their busses and service vehicles.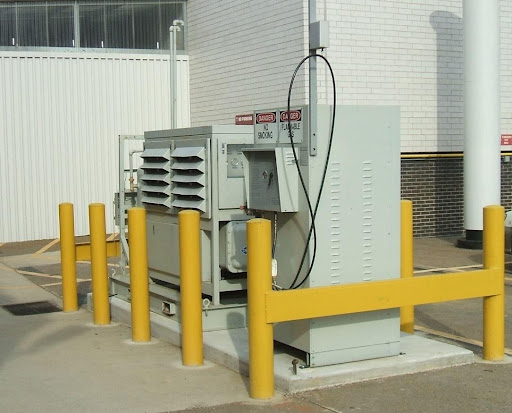 Refurbished Simplex System
New Jersey University & School District CNG Projects
Princeton University – Princeton, NJ
2003 Designed & built a CNG fueling station in conjunction with Ford Motor Company (former Princeton alumni donated the busses) for a mini-bus program. This included a fast-fill and a time-fill platform. Additionally designed & installed a CNG system for indoor fueling of a CNG Zamboni ice rink resurface machine.

Four Time-Fill Positions, Manual Fast-Fill Cascade, Compressors for Busses & Zamboni Ice Rink Machine